STR8 TALK: RIHANNA FIRES BACK AT "MAN DOWN" CRITICS!
Tweet
Yesterday we told ya Rihanna has been under fire for her "controversial" video "Man Down". Rihanna decided to clear the air and call into BET's 106 & Park and give her side of the story. She said,
This time around I wanted to explore with my acting even more than I had before. Man Down is about a girl who committed a murder, she is remorseful. We needed to go back to why it happened; she is not a cold blooded killer. We decided to hone on in on a very serious matter that people are afraid to address. Rape is unfortunately happening all over the world and we continue to cover it up. I didn't go into it to make a controversial video. I wanted to make a mini movie, something raw and artistic. If I can be a voice for so many who aren't heard, then I win twice. Look at how it's affecting people, girls are empowered by this. It's easy to look at it and turn it into something negative. I'm just impressed that my fans get it. That was really important to me. This is a story for them, it's not for the critics. It's for my fans. And they need a voice sometimes and if I can be that, then I've done my job".
Before calling into BET's 106 & Park, Rihanna took it
Twitter
…
(read from bottom->up)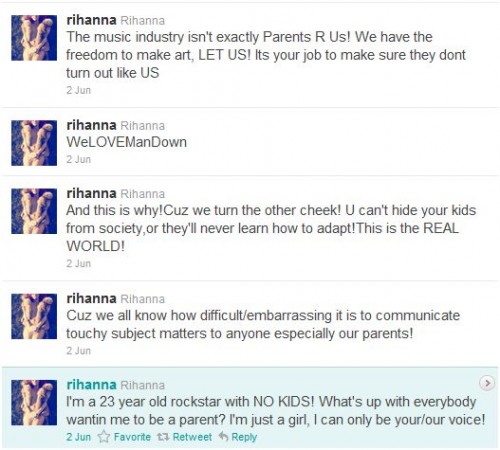 Our Bajan princess makes a GREAT point. People really need to fall back and enjoy the video for what it is…entertainment!
THOUGHTS?!
Related posts:
Controversy
,
Featured
,
Things They Say
by
LexAve