STR8 TALK: RIHANNA'S "MAN DOWN" GETS PUT ON BLAST!…WHY?!
Tweet
Rihanna finally delivers something of substance and she gets put on blast! I don't get it!
"Man Down" is not only is a techno pop reggae infused record, but the video itself touches on the sensitive topic of rape…something women and yes, men, can relate to. In the video, Rihanna seductively dances with a man in a club, turns down his advances, and then leaves the club. As many girls would do. But refusing to take "no" for answer, the man follows her and forces her into a secluded area and rapes her. Though the rape scene itself isn't depicted…it's definitely insinuated by the look in Rihanna's eyes and her tears pouring down her face shortly after the rape. Instead of reporting the crime, Rihanna taken by rage and shame opts to take matters into her own hands and shots her rapist in plain sight.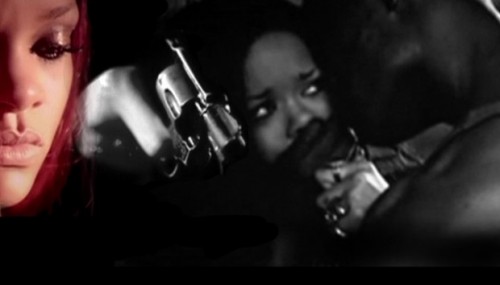 So who's up in arms about the video? According to Billboard,

The Parents Television Council, the Enough is Enough campaign, and entertainment think tank Industry Ears called on BET and its parent company Viacom to stop airing the video.

"If Chris Brown shot a woman in his new video and BET premiered it, the world would stop. Rihanna should not get a pass," said Paul Porter, co-founder of Industry Ears, which campaigns against negative images in the media.

Porter said that in 30 years he had never witnessed "such a cold, calculated execution of murder in prime time."

Melissa Henson of the Parents Television Council said that "instead of telling victims they should seek help, Rihanna released a music video that gives retaliation in the form of premeditated murder the imprimatur of acceptability."

Seriously people?! Rihanna's "Man Down" video is just another interpretation of how a young woman would deal with this situation. It shows the anger and the hurt of such a crime and how detrimental it is both psychologically and emotionally. Enough to make a person snap and lose it. Rihanna didn't just randomly shoot a guy on the street, he was her abuser. No one is saying this right or wrong. But one can definitely relate to the pain and hurt one would feel after such a violating act…so much so, you'd want to inflict that same kind of pain on that person. Forget these activists…Rihanna you did a great job in the video!
THOUGHTS?!
Follow @lexave @str8nyc
Related posts:
Controversy
,
Featured
,
Music News
,
New Video
by
LexAve