STR8 BEEF: LIL' KIM SLAYS NICKI MINAJ ON "BLACK FRIDAY"?!
Tweet
So yeah I've been laying low from the blog scene for a minute. But after hearing Lil' Kim straight murder Nicki Minaj on "Black Friday", I got inspired and felt the need to stand up on give Kim a round of applause. A lot of ya youngins are quick to trash talk about Lil' Kim saying "she old", "she needs to quit", "she's pathetic", "she's desperate". Nope, sorry but this "Black Friday" is very much factual and good. Albeit its no "Ether" but gotta love Kim for keeping relevant. "Brooklyn thorough bitch….never been type to have beef and settle shit." The Queen Bee spits venom over Pharoahe Monch's instrumental from "Simon Says"…straight putting the Harajuku Barbie in her place, rapping, "It'll be a murder scene/ I'm turning Pink Friday to Friday the 13th," and dubbing her a "Lil' Kim clone clown."
"This ain't a championship fight, I been the greatest/ See the fact is, what you doing, I did it/ Lames tryna clone my style and run wit it/ That's cool, I was the first one wit it/ You's a Lil' Kim wannabe, you just hate to admit it."
WOW! And it doesn't stop at Nicki, Kim takes shots at Diddy.
"You and Diddy sorry bunch of swagger jackers/I mothered you hoes/I should claim you in my income taxes…"WOWZERS! Lil' Kim is definitely poppin' off on this one and we LOVE IT!
Audio clip: Adobe Flash Player (version 9 or above) is required to play this audio clip. Download the latest version here. You also need to have JavaScript enabled in your browser.
DOWNLOAD->> LIL' KIM- "BLACK FRIDAY" (NICKI MINAJ DISS)
"All this buffoonery, the shit stops now…"
Eff what ya heard…Lil' Kim is BACK! Illseed claiming the Queen Bee is cooking up a classic with Hardcore 2. Can't wait!
Highly doubt Nicki Minaj got the lyrical prowess and flow to mess with this diss track.
Sidebar: I'm not gonna lie, really wish Lil' Kim would've came out with this a while ago.#imjustsayin Kinda feels a bit late in the game for Lil' Kim to be coming at Nicki. But like they say, better late than never (I guess). Now that that's done, I really hope Lil' Kim steps off Nicki and focuses on her own projects.
This image ought to piss Lil' Kim off some more… crushing the competition…uh oh wait, is that the Brooklyn Bridge?! Oh boy, here we go!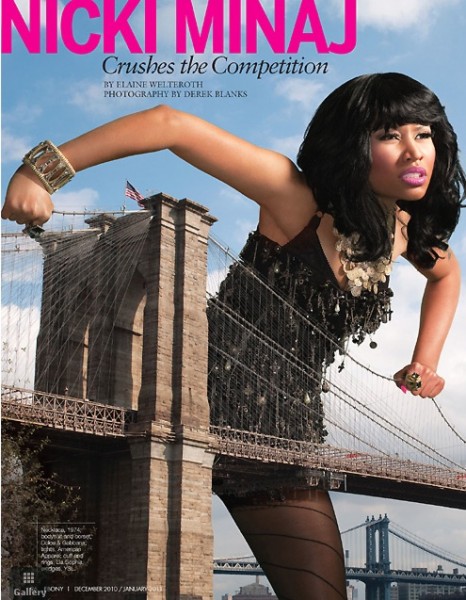 Don't even get me started on that Rolling Stone's cover story calling Nicki Minaj the new queen of Hip Hop. WOW! Imma leave for another day. Stay tuned for a video blog on that note.
As for whether or not Nicki will fire back with her own diss track…highly doubt it.
Related posts:
Beef
,
Featured
,
music
,
Music News
by
LexAve
Str8 Snitchin'!...