FROM THE TWEETS: LIL' KIM FINALLY JOINS TWITTER!
Tweet
I've got some breaking news! The Queen Bee has finally crossed over to the other side, and by the other side I mean Twitter!  The original Queen of Hip-hop tweeted her first message a few hours ago and wasted no time demanding that Twitter bosses verify her ass. Yep, Kim may act like she's a valley girl, but she's still a BK chick at heart! The pint-size rapper is already following a few of your favorite celebrities including Diddy, Kim Kardashian and even train wreck Lindsay Lohan to name a few.
Well, you can now follow The Queen Bee on Twitter @LilKimDaGoddess .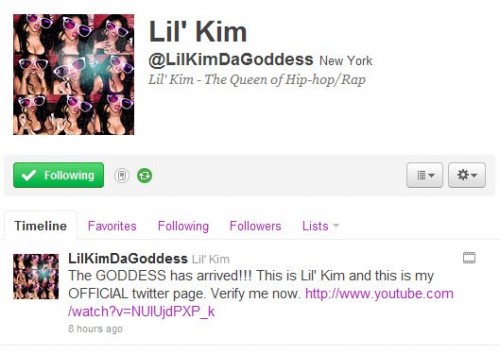 I'm surprised the fail whale didn't pop up, 'cause you know when the Queen comes through…everything shuts down!  But, what took her so long to hop on the Twitter bandwagon?
Here's video of The Queen Bee chopping it up w/our homie KodakBoi of KidduNot.com, making her official twitter announcement:
Related posts:
Diva
,
Featured
,
Twit Fix
,
Twitter Hype
by
J'More