STR8 EXCLUSIVE: PAULA CAMPBELL'S FUTURE IS BRIGHT…
Tweet
Born and raised in the gritty streets of Baltimore, the Queen of the DMV also known as Paula Campbell is a living testament that hard work does pay off. She may remind you of the Queen of Hip-hop soul Mary J. Blige or even Keyshia Cole, but don't get it twisted–Paula's story is completely different. Paula is no newbie to the game, as she's been around for year and has worked with some of today's biggest names from Kanye West to Ne-Yo. Her vocals can also be heard on Three Six Mafia's Oscar winning song "Hard Out Here For A Pimp". After a brief stint with Sony Records, Paula sought out the independent route and established her very own label Rublewood. Check out our exclusive interview with Paula Campbell–where she talks Beyonce, the state of R&B music, balancing motherhood and more.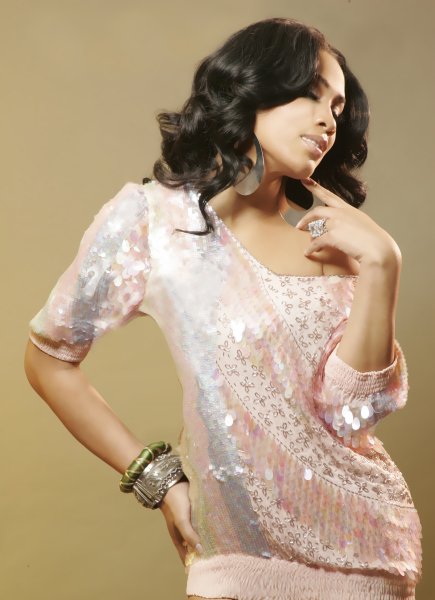 Str8NYC: You've been singing for a while and you're a songwriter as well; at what age did you realize you were just destined to be a singer?
PC: Honestly, I have never wanted to do anything but sing. I can remember back to when I was about four years old–I wanted to be a singer then. And I wrote my first song when I was seven.
Str8NYC: Wow! Do you remember the name of the song?
PC: Yep! It was called "Love" and it was about a little boy I had a crush on.
Str8NYC: Awww! Too cute! [Laughs]
Str8NYC: Who are your inspirations.
PC: Man, I have so many. But my musical inspirations of all time are definitely Whitney Houston, Stevie Wonder and Prince.
Str8NYC: You're hailed as the "Queen of the DMV", so in five words or less tell me why you're the "queen".
PC: In five words?
Str8NYC: Yes.
PC: [Laughs] I'm strong. I'm intelligent. I'm responsible. I'm loyal. And I'm real.
Str8NYC: What sets you apart from all the other R&B chicks?
PC: First and foremost I don't sound like any of them. Secondly, there's a lane that's wide open for me. I think B [Beyonce] is definitely more pop, but when you look and you see these other people [singers], I think people probably compare me more to Mary J. or Keyshia Cole–the female artist with the struggle and the story and that's got a lot of hood in her. But what sets me aside from that is a completely different story. I'm not overly aggressive. I'm not in a state where I always gotta be hood. How can I word this and not sound like I'm dissing anybody? I fit in everywhere. How about that [laughs]!
Str8NYC: Do you think R&B is dead?
PC: I do not believe that is dead. If you would've asked me maybe two years ago, I would've definitely said yeah, but I honestly believe that R&B is coming back around. If you look at the music that Mario is doing and even Trey Songz they're going back to real R&B music. You know, Keyshia Cole is doing a great job! Jazmine Sullivan, oh my God! You know people are really singing real music with substance that tells stories and make sense.
Str8NYC: As a single mother, how do you manage family and work?
PC: I would probably say I don't. I don't really know a way to manage being a mother and an artist, you know what I mean? I'm always a mom first. Everything that comes or however God brings it to me is just the way I accept it. I always make sure I take time and put time in for my child and everything else is secondary. So put God first, my daughter second, my music and everything else.
Str8NYC: I first saw you perform at "DMV Helps Haiti" benefit concert where you were the only female on the bill and you really held your own. You sang "Ain't Nobody Stupid" and I remember you saying Ne-Yo penned the track. How did that collaboration come about?
PC: I was actually signed to Ne-Yo for a short period of time after my deal with Sony [Records]. We're still really, really good friends. But with "Ain't Nobody Stupid", they had all these kind of like pop songs for me. So Ne-Yo was like, "Yo I hear something different for Paula…there's something deeper. She's darker than this bubble gum music". We got in the studio and started working. "Ain't Nobody Stupid" was one of the first songs he did for me. It actually won a contest for Glamour magazine and Ciara directed the video. But by the time all of that was over, we never really promoted it.
Str8NYC: Who else have you worked with in the industry?
PC: I've worked with so many people! Steve Taylor, Rockwilder, Makeeba Riddick who's also from Baltimore–gotta show love to her too! I hate it when I forget people. I'm so sorry [laughs]. I've worked with a lot of people.
Str8NYC: Who haven't you worked with yet that you really want to work with?
PC: I would love, love, love to work with Missy [Elliott].
Str8NYC: Missy?
PC: Yes! I think I could do so much great work with Missy on the producing tip and writing. I would love to work with Missy! And I don't know a female artist who would ever say and mean that they really didn't want to work with B [Beyonce]. I would love to do something with Beyonce.
Str8NYC: Speaking of Beyonce, you're not only a singer, but you're also a writer. How do you feel about singers who take credit for songs that they haven't even written?
PC: You know, I think it's unfair. However, if you're a new writer and nobody would know anything about you unless this multi-platinum selling artist sang your song, that's kind of like your payment for basically giving you an outlet to put your music out there on a wholenother level.
Str8NYC: I see what you're saying. But every song though?
PC: I think every song is a bit much. I'll be completely honest. I think to ask for anybody's publishing and you didn't write the song that's a bit much. But again, if I'm Joe Schmo out in North Carolina and nobody knows about me. But my pen is so sick and I just happen to get this song to Beyonce–who is going to take my song to the next level and once people know I did this song for Beyonce then I'll be able to have leeway to do what I want to do…I mean can you really argue with it?
Str8NYC: True, that's like catch 22.
PC: Definitely a catch 22!
Str8NYC: You're a very pretty lady. If a guy wanted to holla at you, what would he have to do to get your attention or even a date?
PC: I don't even know [laughs]. I would say just be himself. I appreciate genuine people and the guys that I've dated in my past most people are like, "Oh my God! You dated him?" [laughs]. I appreciate the innocence of it all. So when people come to you and they're like 100% or you believe they're 100% them flaws and all…I appreciate that. Because I know that if I can deal with that today, then two years from now I can deal with it as well.
DOWNLOAD/LISTEN–>> PAULA CAMPBELL- "DREAMMAKER" (THE STREET ALBUM)"
For more information on Paula Campbell check out these links!
Related posts:
Exclusive Interview
,
Featured
,
Mixtape
,
New Artist
by
J'More
Str8 Snitchin'!...