STR8 GLOSSY: USHER COVERS ATLANTA'S 944 MAGAZINE…
Tweet
Usher Raymond graces the cover of Atlanta's "944″ magazine's current issue. In the cover story Usher goes in on significance of his latest album title "Raymond vs. Raymond" and the why "Papers" is not about his ex-wife Tameka Foster. Really Usher?!…could've fooled me.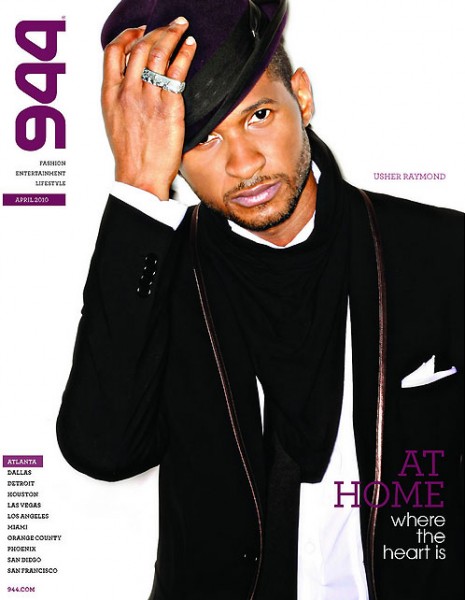 "People just assume that Raymond v. Raymond means Usher versus his ex-wife, but it is a personal evaluation. We are our own worst enemy, and we are our greatest supporter at the same time," he says. "Consider me naive, but I didn't think that people would think [it was about my relationship], because I was not divorced when I came up with the name."
Is Usher dumb as bricks or what? What else did he think people were going to think about? Did he forget his last HIT album surrounded the break-up to Chilli? Can you blame us for thinking "Raymond vs. Raymond" was going to be about his divorce and the hardships? C'mon Usher…smartenup! Read the rest of article HERE.
Enjoy this new video of Usher performing "The Goes My Baby" for Iheartradio.
First 15 seconds kill me…"I heart strip clubs. I heart my children. I heart radio." Glad strip clubs were top of mind and not your kids, lol!
Related posts:
Featured
,
Magazine Covers
,
Magazine Spread
,
New Video
,
Relationships
,
Rumors
,
Things They Say
by
LexAve
Str8 Snitchin'!...