LA LA VAZQUEZ ON PROVING HER "LATINIDAD": "YO SOY BORICUA!"
Tweet
La La Vazquez, Carmelo Anthony's fiance, recently wrote a personal essay on Latina.com, on ""Puerto Rican is her nationality, Black is her race". I spotted this piece on homie Necole Bitchie's site and though I tried to bypass her reader's comments like "Why is this newsworthy?"…I couldn't help but give it the mean side-eye treatment. "Why is this newsworthy?" some of you might ask, well because there are many ignorant folk out there that need schooling on the Latino community. Just like how in the black community, folks come in various different shades of brown…so is the case in the Latino community. Not to mention I constantly have to justify to both my "Latinidad" to my Latino community and the black community b/c I'm either look "black", some exotic mix of Hawaian and something, or whatever…when in fact I'm Ecuadorian. Sure I'm too tall, too dark, and too dare I say bootylicious, to be the typical Ecuadorian…but believe it or not both my parents are from Guayaquil, Ecuador. Anywhoo the point is it get's annoying and at times disrespectful when people give me that perplexed look "Wait, you're not Black! So what are you?" But I'll let La La explain it best:
A lot of people don't realize that I'm Latina, which is fine. One thing about being Latina is that there isn't one look that comes with the territory. I don't expect people to know my cultural background just by glancing at me. I do, however, expect that when I tell people my family is from Puerto Rico, that I will be believed and not accused of trying to be something that I'm not. It usually goes something like this: a person having a conversation with me discovers one way or another that I'm Puerto Rican and fluent in Spanish. That person then expresses their shock over these realizations for any number of reasons—common responses are, "You don't look Latina" and "I thought you were black!" I never said I wasn't black. And since when does being black and being Latina have to be mutually exclusive?

In my experience, people tend to have an uninformed and rather narrow view of what it means to be Puerto Rican. For me, not looking like some people's idea of a typical Latina has been challenging and often painful. I constantly find myself trying to justify who I am, and why should I? I'm proud of my heritage and my family. Both of my parents are from Puerto Rico. They raised two kids in Brooklyn and later in New Jersey, where we ate arroz con gandules and pasteles and listened to salsa music. I feel just as at home in Puerto Rico, where I still have tons of family, including aunts, uncles and cousins. Puerto Rico is in my blood. And that has nothing to do with the color of my skin.

I'm not angry with anyone who doesn't understand the complexities of race and culture. And I'm also not interested in having long, drawn out conversations about how it's possible for me to look like this and speak Spanish. In fact, sometimes I make it a point not to mention my parents' birthplace because I don't always feel like having the inevitable discussion that follows. Instead, I let people look at me and come to their own conclusions. As I start to get my feet wet in Hollywood, I already know that there are certain parts I won't even be considered for. The character can be Puerto Rican and speak Spanish just like me, but Hollywood defines Latina as Jennifer Lopez and Sofia Vergara. As beautiful as they are, we're not all one race in Latin America. But I don't go to auditions so that I can give history lessons to film executives. I'd rather skip the entire process.

I'm raising my son to understand who he is, and it's my hope that he'll never let others define him. It reflects poorly on us when we don't educate ourselves about the rest of the world and what it looks like. I encourage people who are interested to learn more, do research and ask informed questions. If you're lucky enough to visit various countries in Latin America, you'll be baffled to see the blackest of the black and the lightest of the light living together. And I dare you to ask one of them to prove their latinidad.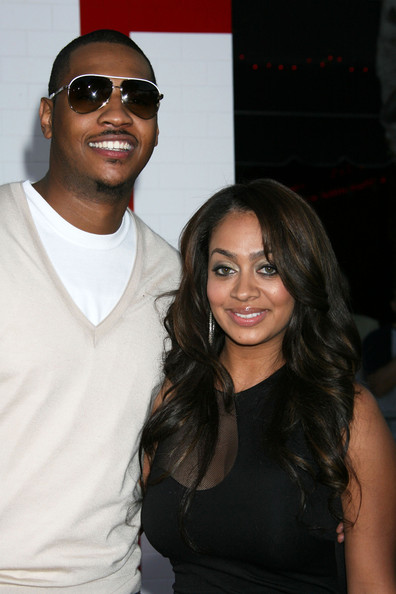 I'm so happy LaLa took the time to point out & distinguish Race vs Ethnicity vs Nationality…great conversation starter.
THOUGHTS?!
Shout outs to Celia Cruz, Gina Torres, Zoe Saldana, Rosario Dawson, Rosie Perez, Christina Milian, Lauren Velez, Tatyana Ali, Kelis, La La Vazquez, Sessilee Lopez, Lisa "Left Eye" Lopes, Dania Ramirez, all my other fellow morena Latinas.
Related posts:
Featured
,
Latinos
,
Things They Say
by
LexAve
Str8 Snitchin'!...