RIHANNA'S NEW BOO HAS SHADY PAST?…& TOP 5 REASONS WHY IT WONT LAST!
RIHANNA'S NEW BOO HAS SHADY PAST?…& TOP 5 REASONS WHY IT WONT LAST!
Apparently our swag princess wasn't smart enough to have new boo's past investigated. Sounds a bit over the top but I'm just sayin', when you come out of a relationship where someone laid a beatdown on you and there were some red flags in the past, that she clearly opted to ignore…its just smart to do your research on the next dude who decide to kick it with. Better to be safe than sorry. Anywhoo, I digress. Turns out Ri-Ri's boo, Matt Kemp, has a shady past of his own. According to reports, LA Dodger Matt Kemp had a restraining order put out on him by his ex-girlfriend, actress Felisha Terrell. Matt's ex says,


"He is violent and I am afraid. He repeatedly made me scared and gets in my face. He is threatening to take all the items I purchased and try to destroy my property. He brings his friends driving up and down the street to try and intimidate me. I am very fearful. He has other people calling me and stalking me."
There's actual filed papers, where the one-time Days of Our Lives star states: "He is violent and I am afraid."

Not to throw shade at Rihanna's way, but this right here is a RED FLAG!! And clearly her friends feel the same way:
"You'd think after what she went through with Chris, RiRi would be extra careful about learning the background of any man she gets close to," one of them tells Star. "It's almost as if she has a dark side of her own — an attraction to bad boys."
Clearly Rihanna has a thing for these bad boys in disguise. Str8NYC.com rounded a few other reasons why the new couple just won't last.
5. Looks too much like Chris Brown- The resemblance is pretty much evident, sure he's taller and has got more body than Ike Jr., but he just looks a bit too much like Chris Brown. Who knows if that'll make RiRi have flashbacks and want to snap at dude? I'm just saying…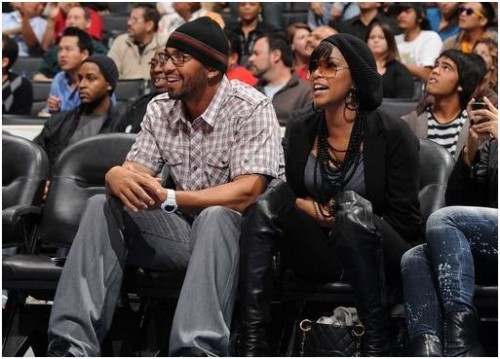 4. Serial Dater- Wasn't he just spotted kicking it court-side style with Texas native, Letoya Luckett…in December 2009? I'm just saying, the boy likes to play the field.
3. Ball Player- Everyone knows a man is only as faithful as his options. And when it comes it athletes, need we run the list of players. It's bad enough groupies were throwing themselves at Ike Jr., when they were together…imagine a baseball player. That's just too much stress to deal with. And ya know Rihanna got some insecurity issues. Remember she went ballistic when she discovered text messages from another chick on Ike Jr.'s phone.
2. Too fast, too soon- Sure both Matt & Rihanna are rich and have money coming out the A$$ but it's a bit too soon to be running off on long-week getaways and boo loving in front of the paparazzi. When you move to fast into a relationship, it's like money…easy come, easy go. They're both young and there's nothing wrong with spending time together and enjoying each other's company…but the key is to take it SLOW! I mean seriously, how well do they really know each other to be going trips to Cabo, romping in the pool and ass-groping.
1. Young, Black, Rich- Call me a hater, but when you're this young, this FLY/HOT, and this wealthy, relationships come and go. Right now, Rihanna is the flavor of the month and so is Matt. Not to mention, Matt's agent has denied the pair are even dating basically calling RiRi just a jump-off. They may not be dating, but they're definitely f*cking!
Now I'm not saying Rihanna needs to cut him off ASAP but just be weary. And take that restraining order mentioned earlier as a sign…have fun, but be smart about it. And this goes for all ladies too! Don't be fooled by the honeymoon stage at the beginning of a relationship, enjoy the time but also keep your eyes peeled for RED FLAGS! They're always there, but we're so quick to give the benefit of doubt, we consciously choose to ignore the signs. Like the NYC MTA transit system says "If you see something, say something!"
Related posts:
Featured
,
Relationships
,
Rumors
by
LexAve
Speak Your Piece!