RIHANNA DOES UK'S X-FACTOR + STORMS OUT OF JAY SEAN'S PARTY!
Tweet
Rihanna enjoyed her time out in London this past week and grabbed a bite to eat at Ochi Caribbean Takeaway in London, England last night.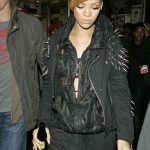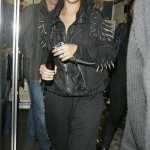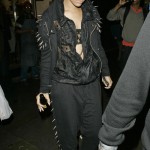 Earlier that night Ri-Ri took to the stage at "X-Factor" for a killer performance of her latest single "Russian Roulette."
THOUGHTS?!
There's also word Rihanna stopped by Cash Money's Jay Sean lavish UK album release party for All or Nothing and within 20 minutes stormed out! Why? Well according to the MirrorUK,


She had barely sat down when the DJ played a track by her violent ex, Chris Brown. So she gathered her posse and stormed off.
Rihanna, who was wearing a slinky, cleavage-enhancing trouser-suit, hugged pal Jay and apologised for being late before reaching for a glass of champers. Minutes later she was grooving to his performance of Down and then the dunderhead on the decks suddenly spoiled her good mood.

Hearing her ex being played, Rihanna, 21, stopped dancing, returned to her table, told her entourage the party was over and left.
Our spy tell us: "It was a massive night for Jay.

The Cash Money boys had wanted to give him a homecoming celebration to remember and they wanted everyone talking about the label's launch party in the UK for a long time.

"Getting Rihanna there was the icing on the cake. Who knows what possessed the DJ to start playing Chris? It was such a dumb thing to do. Rihanna had looked ready to party as she chatted with Ice-T. But as soon as that song came on, she sat down and raised her eyebrows.

"She couldn't believe how insensitive the DJ was. She thought he probably played it to get a reaction. She wanted to leave there and then."
Related posts:
Featured
,
Fresh Candids
,
New Video
,
Relationships
,
Rumors
,
Scandal
by
LexAve
Str8 Snitchin'!...