JAMIE FOXX DUBS DRAKE THE NEW "LL COOL J"!
Tweet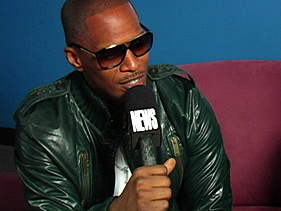 Seems like people just can't get enough of rap newcomer Drake, including funnyman Jamie Foxx! In a recent interview with MTV, Jamie praised the actor-turned-rapper and even went as far as comparing him to the G.O.A.T aka LL Cool J! Now, that's major!  He says,
"[Drake] has a way with women, in how he portrays himself. His music is … he can go as gangster as he wants, but when he sings, that is the X-factor. A lot of us use the Auto-Tune, but this guy's actually melodically soothing when he's singing to females, and I think that gives him a little bit of what my man LL Cool J had. The reason LL Cool J lasted for so long was because he was an absolute monster when it came to battle rap, but he was, when it came to females … there's not a lady in the world don't want to be at an LL Cool J show. So, if this guy can capture what I think he can capture, he'll really have that."
He adds,
"I mean, this guy's gonna come out with a hip-hop album, then he's gonna come out with an R&B album, then he might come out with a pop mainstream album — he's that dope."
I must admit that Drake is talented, but people need to seriously hop off his d*ck. Let the n*gga breath!
Related posts:
Things They Say
by
J'More
Str8 Snitchin'!...